Yangoon – The famous shwedagon Pagoda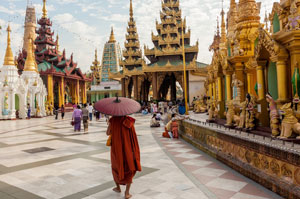 Yangon was a capital city up to 2005 when the government abruptly moved the capital to Naypyidaw. With its wide streets, parks and lakes Yangon has the sleepy charm of a provincial town. Crumbling British colonial mansions stand beside glittering pagodas, including one of the most remarkable religious shrines in all of Asia – the magical Shwedagon Pagoda. Much of Yangon's allure stems from its colorful street life: peddlers hawk stones on the sidewalk in the gem market; ricksaw drivers in striped longyis (sarongs) peddle lazily through tree-lined streets; and people drink endless cups of sweet, milky tea at roadside tea stalls.
Bagan – Legendary land of temples
On par with Angkor Wat, Bagan ranks as one of the great wonders of the world with over 2000 awe-inspiring pagodas. Situated on the plains next to the Ayeyarwady River, this ancient city is dotted with thousands of ancient stupas and temples from different eras making it one of the most remarkable archaeological sites in Asia. The breathtaking view of the brick temples, against the backdrop of an expansive plain of dust is unforgettable.
Mandalay – The World largest book
As the last royal capital of the Burmese Kingdom, Mandalay today is the religious heart of the country possessing some of Myanmar's most beautiful pagodas, including the highly revered Mahamuni Paya, which holds a famous Buddha-image covered in gold leaf. Those interested in Buddhist religion will appreciate the Mahagandayone Monastery where more than a thousand monks and novices live and study the doctrine of Buddha. An additional attraction is the world's largest book – 729 marble slabs of Buddhist scriptures at Kuthodaw Pagoda. Famous for its arts and crafts, Mandalay is a good place to buy everything from traditional wooden puppets to hand-woven fabrics.
Inle Lake – One leg paddling
Heho is known as the gateway to Inle Lake, which is just a short one-hour drive away. The people who live around this serene 22km-long lake are known for their peculiar style of rowing: standing on one leg they use the other leg to row. Floating vegetable gardens dot the lake's surface and there are colorful morning markets on the lake shores. In addition, Inle Lake is home to silk and lotus weaving craft shops located on stilts on the lake. A wide range of bird species also inhabits the lake and its grasslands, adding to the beauty of this fascinating water world.
Ngapali Beach – A paradise of beach break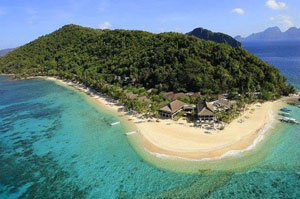 Located relatively close by to Yangon along Myanmar's west coast, the quiet Ngapali beach resort offers palm tree-fringed golden sandy beaches which dip down into the clear green waters of the Bay of Bengal. The area is peaceful and relaxing, but there are activities like windsurfing and sailing available. Hire a bicycle or a small boat to explore the shoreline and fishing villages, and in the evening, lie back under the romantic night sky as the tropical moon moves through a sky peppered with bright stars.
Mrauk U – An ancient trading port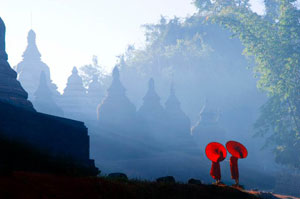 Lying on a rocky isolated plateau in western Myanmar, Mrauk U is one of most spectacular royal cites of Asia. Mrauk U is smaller than Bagan but less impacted by people and tourism. It is home to more than 150 temples among rural mountainous area set in dense vegetation surroundings. In its heyday, Mrauk U served as a free port for trading with the Middle East, Portugal, Spain, and Holland. Here, you will really have a chance to take a true exploration of uncovered works of human history or forgotten masterpiece of ancient architecture inside Myanmar's beautiful plateau.
Putao – A former Fort Hertz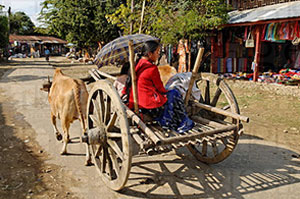 Formally known as Fort Hertz, Putao, the most northerly town in Myanmar in the foothills of the Eastern Himalayas, was one of the British Empire's most remote outposts. Today, Putao remains completely cut off from the outside world by millions of acres of subtropical rainforest and jagged peaks. It is famous as a jumping-off point for trekkers who want to explore the region's deep forests, wildlife sanctuaries, snow-capped mountains and variety of ethnic hill tribe villages.
Kyaikhtiyo – The Golden Rock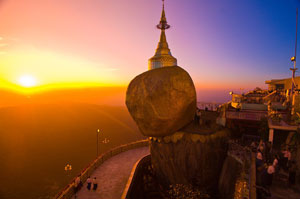 Simply known as the Golden Rock, the Kyaikhtiyo Pagoda is one of the most magical destinations in Myanmar. For both Buddhists pilgrim and tourist alike, it is very much a 'must visit place'. The Golden Rock is located to southeast of Yangon, on a magnificent mountain peak, deep inside the rainforest of Mon State. Take a break from the hurly burly of city life and relax your mind and body as you take in the changing scenery from the river bustling with both passenger and local fishing boats to the verdant freshness of the majestic rain forest as you make what will certainly be an unforgettable journey to the Golden Rock. The history of the pagoda is legendary rather than factual as no official record of its past exists.